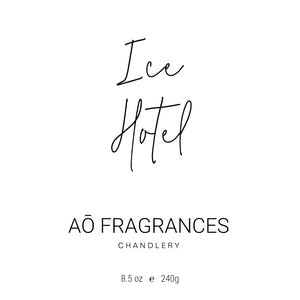 Ice Hotel
Sale price Price $22.00 Regular price
Step into a winter fantasy where your senses are greeted by the effervescence of champagne bubbles and the zesty embrace of bergamot. Welcome to the world of Ice Hotel, a candle that encapsulates the serene beauty of a snow-covered landscape, lit only by the twinkling stars above.

As the fragrance evolves, you'll venture deeper into this winter wonderland. Your olfactory senses are guided through a forest of balsam and cedar trees, their leaves glistening with icy dew. It's like a nature walk through a frosted forest, where every step crunches with the crispness of new-fallen snow.

But the experience doesn't end here. The final notes transport you to a cozy cabin in the woods, with a hearty fire crackling in the hearth. Base notes of pine, juniper, moss, and patchouli provide the perfect woodsy blend, grounding you in the tranquility of nature's beauty.

Infused with an array of natural essential oils, including cedarwood, fir, and patchouli, Ice Hotel is more than just a fragrance—it's an olfactory journey through winter's most enchanting moments. Let this candle guide you through a season of wonder, adding a touch of elegance to your home, whether it's a holiday gathering or a quiet evening by the fire.
Note Profile:
Top: Champagne, Bergamot
Middle: Balsam, Cedar
Base: Pine, Juniper, Moss, Patchouli

55 hour burn time
8.5 oz by weight (12 fl oz Jar)
Phthalate free
100% Pure Soy Wax
Hand Poured in Saint Augustine Florida