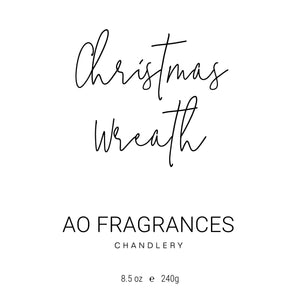 Christmas Wreath
Sale price Price $22.00 Regular price $0.00
Step through a frosted doorway and be greeted by the inviting aroma of our Christmas Wreath candle. It's a festive blend that captures the very essence of a holiday homecoming. As the candle burns, a subtle hint of eucalyptus wafts through the air, as if signaling the first snowfall of the season.

The heart of this enchanting fragrance is a joyful medley of berries, like ornaments adorning a freshly-cut wreath. It's a delightful mix that brings both warmth and cheer, making every room feel a little bit cozier, a little more like home.

But there's an added layer of depth that truly makes this scent special: a base of coniferous incense, evoking the timeless tradition of wreaths hanging on the door, signaling the joy and unity of the season.

Expertly infused with a complex blend of natural essential oils—ranging from pine and eucalyptus to clove leaf and more—our Christmas Wreath candle is more than just a scent; it's a holiday experience. Light it to welcome guests, to accompany a quiet evening by the fire, or to simply fill your space with the comforting, luxurious aroma of the holiday season.
Note Profile:
Top: Eucalyptus, Blackberry, Lemon
Middle: Berry, Cranberry
Base: Balsam, Pine, Juniper, Incense
55 hour burn time
8.5 oz by weight (12 fl oz Jar)
Phthalate free
100% Pure Soy Wax
Hand Poured in Saint Augustine Florida