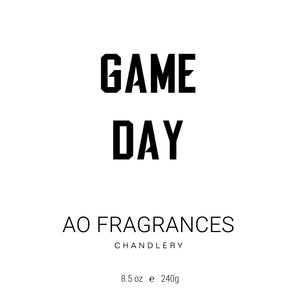 GAME DAY
Sale price Price $28.00 Regular price $0.00
Imagine the anticipation as you approach the stadium. The air is thick with excitement, and you can almost taste the citrusy tang of a Jacksonville summer. That's "Game Day" — a fragrance designed to bottle the electrifying atmosphere of a Jaguars game.
As you remove the lid from the candle, the top notes of mandarin and lemon awaken your senses, reminiscent of the first roar of the crowd when the team takes the field. The scent unfolds with middle notes of pineapple and grass, capturing the sweet highs and the intense plays that make every game unforgettable.
Finally, as the clock winds down, the fragrance settles into comforting base notes of vanilla and musk, echoing the sense of community and shared joy that lasts long after the final whistle.
"Game Day" is more than a fragrance; it's an experience, an olfactory snapshot of the emotions, sights, and sounds that make a Jaguars game what it is. Crafted with meticulous attention to detail and quality, it's a tribute to the passionate community of "Scent Savants" that have been with us since our humble beginnings.
So, whether you're a die-hard Jaguars fan or new to the game, "Game Day" extends an invitation to be a part of something bigger—a community, a passion, a story. Welcome to the Ao Fragrances family, where each scent narrates a chapter, and "Game Day" is a story waiting to be told. 🏈✨
Note Profile:
Top: Mandarin, Lemon
Middle: Pineapple, Grass
Base: Vanilla, Musk