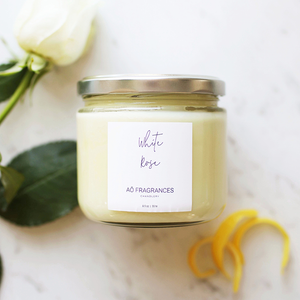 White Rose
Sale price Price $22.00 Regular price $0.00
Introduce your senses to a rose garden like no other—where crisp lemon zest casts a luminous glow on blooming white roses, setting them apart from the classic rose fragrances you know. This is a scent that captures the freshness of petals kissed by morning dew, enlivened by sparkling notes of lemon.

As you delve deeper into the garden, you'll encounter the lushness of muguet and the soft spiciness of geranium leaves, delicately interwoven to add complexity and depth to the floral bouquet. Yet, the story doesn't end there. Lying beneath these layers is a surprising twist—a refreshing undertone of cooling mint that leaves a revitalizing trail.

The base harmonizes this invigorating blend with notes of blue spruce and musk, creating an aromatic tapestry that is both uplifting and grounding. This fragrance is like a modern love letter to the classic rose, reimagined to be as fresh and bright as a newly blossomed flower.

For those who seek a rose fragrance that defies expectations, look no further. This scent is a poetic reinvention of a timeless classic, perfect for any occasion and any season.
Note Profile:
Top: White Rose, Geranium
Middle: Mint, Lemon
Base: Blue Spruce, Musk
55 hour burn time
8.5 oz by weight (12 fl oz Jar)
Phthalate free
100% Pure Soy Wax
Hand Poured in Saint Augustine Florida